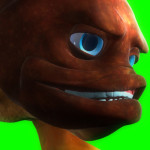 More than two years of working both indoors and outdoors, a real film crew consists of 20 people, more than two thousand hours dedicated to the digital effects and post-production, a cast of actors and extras of more than 40 people, a team of divers and environmental experts, psychologists, psycho-pedagogues and educators.
This is not a fiction for television, a new sitcom or a blockbuster movie, but simply the first edu-fiction (mix of educational, cartoon and Italian fiction) for schools. "Lezioni di mare" will be presented at the "Cartoons on the Bay", in Positano.
A product 'revolutionary' for the school learning that through the language of images of television drama, manages to treat, train and educate the younger generation to respect the sea. Among the players he could not miss the king of the abyss, Enzo Majorca, beside a grouper named Alfio, made in 3D computer-graphics (the same as the Pixar of "Nemo"), voiced by Leo Gullotta; there 's also Simona Gathering, a Sicilian girl of 14 years.