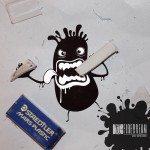 That's what I do when I have no time, and I created this crazy monster…
The last few months have been full of news, and my life has changed a lot. Sometimes I have creative moment: this little monster was born in my spare time, he does not have a name yet, but he is always very angry.
Black is his color and he is always very hungry, soon I will have to buy new pencils and rubbers!